Card Sharks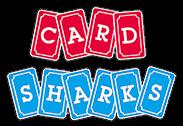 In this fast-moving gameshow, couples compete across the game board in the signature High-Low game. Using
giant traditional playing cards, they predict if each card is higher or lower than its predecessor. With excitement
and laughs at the turn of every card, Card Sharks is the ultimate 'shout at screen' television for viewers of any age
or demographic.
Card Sharks 7 Days Schedule

[All times ET]