RETRO GAME SHOWS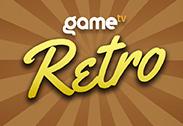 The golden age of game shows from the '70s and '80s with legendary hosts and iconic celebrities dominates GameTV afternoons. Tune in daily at 1PM ET to watch your favourite retro game show.
Tic Tac Dough (1979)
Contestants play Tic-Tac-Toe with a different category in each square. To put their mark (X or O) in the square they want, they must first answer a question in the category listed there. For each question they answer correctly, they win a cash prize. The first contestant to put their mark in three squares in a row gets to keep the cash and move on to a bonus round for even bigger prizes. Hosted By Jim Caldwell.
The Price is Right (1982)
Television's longest-running game show, featuring host Bob Barker, where audience members try to win cash prizes.
Match Game (1974-1975)
A panel game show that features two contestants attempting to match the answers of six celebrities in a game of fill-in-the-blank, hosted by Gene Rayburn.
$100,000 Pyramid (1986)
Contestants have a chance to win the $100,000 grand prize. Two teams (each with one Celebrity Guest and one Contestant) play 2 games and through 6 categories, the winner of each game goes to the winner's circle for a chance to win the grand prize, hosted by Dick Clark.
Hollywood Squares (2002-2003)
Two contestants decide if their chosen star's answer to a question is real or if the star is bluffing. The contestant's goal is to get three squares in a row, symbolized by "X"s and "O"s in the classic tic-tac-toe grid.
RETRO GAME SHOWS 7 Days Schedule

[All times ET]
Today is Tuesday October 03
« Go Back