Masked Singer UK Season 4; The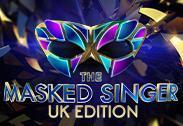 The Masked Singer is a surreal and surprising singing show that asks - who is behind the mask?
Twelve celebrities compete, dressed head to toe in elaborate costumes, their identities are hidden on and off stage, and their voices are disguised in interviews - it's TV's best-kept secret. As each celebrity sings, our superstar panel, along with the studio audience, are left guessing who's behind the mask while the celebrity singers try to throw them off the scent.
At the end of the show, a celebrity is unmasked on stage and, their true identity is revealed. It's the wildest guessing game on TV.
Masked Singer UK Season 4; The 7 Days Schedule

[All times ET]
Today is Tuesday June 06
« Go Back